11月1日,索尼中国总代表根本章二先生来到天津南开大学,为该校日本研究院及商学院近百名学生和索尼粉丝带来了主题为"创新与领导力"的精彩演讲。讲解结束后,根本先生接受了南开大学日本研究院的聘请成为客座教授,今后将在教育领域继续致力于知识传播与经验共享。

正式开讲前,南开大学副校长严纯华先生与根本先生进行了亲切会谈。根本先生表示:"如果通过这次分享可以帮助年轻一代获得一些国际化观点,并为中日友好做出贡献,那么我将不胜荣幸。"严校长感谢根本先生的到来,并表示将与索尼一道为教育和产业的发展继续做出贡献。

在为学生们展开"创新与领导力"的讲解前,根本先生首先与大家分享了索尼公司的经营现状。他表示,近年来,索尼通过结构改革,出售或分离了部分业务,通过给子公司更多自主权,让改革决策更加迅速。索尼在中国开展业务已有二十余载,不仅为中国消费者带来了硬件产品、娱乐内容和优质服务,而且在社会贡献方面也在教育和环境领域着力打造了许多特色项目,索尼希望"植根中国,长远发展"。

 "创新与领导力"是本次演讲的重点与精华。通过列举索尼在关于创新方面的举措,根本先生启发大家在创新时要具有好奇心及对不了解之事的坦率之心、执着且富有行动力,同时要客观地看待问题。关于领导力,他分享了在商业领域,因为通常顾客无法表达他们的需求,需要具有领导力的人才发现问题,创造需求。因此一个具有领导力的人要能坦率地承认失败、持续挑战、不断开展新事物的姿态并乐于学习。
在会议结束后,同学们簇拥着总代表争先恐后地提问或讲述自己的感想。有同学说:"通过今天的讲座了解到了'不一样'的索尼,感觉离它又近了一点,爱它又多了一点。"还有同学表示:"平时很难有机会与跨国公司企业领导人面对面交流,根本先生的演讲内容切实,展现了索尼踏实、务实的风格,十分钦佩。"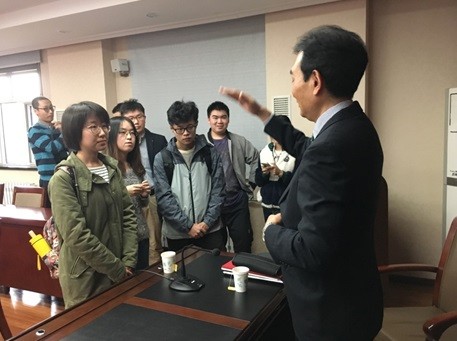 会后,南开大学日本研究院聘请根本先生成为其客座教授,期待今后能有更多机会与年轻的学生与粉丝分享索尼领导人的洞察与见解。根本先生再次强调自己愿继续为下一代和中日友好贡献微薄之力。
English:
Nemoto Shoji, the Sony Group China Representative, upon invitation, visited Nankai University in Tianjin on November 1st. Mr. Nemoto delivered a wonderful speech with the theme of "Innovation and leadership" to hundreds of students from Institute of Japanese Studies and Business Institute including Sony's fans. After the speech, Mr. Nemoto accepted the invitation from Institute of Japanese Studies of Nankai University to become a guest professor, committed to devoting continually to spread knowledge and share experience in the field of education in future.
Before the formal speech, Mr. Yan Chunhua, the Vice-president of Nankai University, held a cordial talk with Mr. Nemoto. "If I could help younger generations to obtain more global perspectives and to improve Sino- Japanese relationship, I should regard it as a great honor. "Mr. Nemoto said. President Yan thanked Mr. Nemoto for his visit, and expressed his hope that Nankai would team up with Sony to contribute to the development of both education and the industry.
Before elaborating on the details of "innovation and leadership", Mr. Nemoto firstly introduced to the audience current status of Sony. He revealed that, during implementing structural reform, Sony had transferred and spun off some business. Given more autonomous rights, the subsidiaries could make decisions much quickly. Sony has been conducting business in China for over two decades. Not only does it provides hardware products, entertainment contents and high-quality services to Chinese consumers, but also it makes efforts to establish many distinctive CSR programs in educational and environmental fields. Sony hopes to deeply root in China and aims for long-term development.
Sony's innovation legacy and new programs constitute the central part of the speech titled "Innovation and leadership". About how to nurture willingness and capability on innovation, Mr. Nemoto gave the audience some handy tips:
Be curious and be frank to things unknown
Perseverance and execution
Facing issues objectively 
Leadership is another topic that aroused great interests of the audience. As Mr. Nemota put it, in the business field, customers usually cannot clearly express their needs, so they rely on persons in the leadership position to identify their problems, provide solutions and create demands. As a result, we expect leaders to have the following tributes:
Admit his/her failure frankly.
Continue to embark on challenge.
Develop new things continuously.
Wiling to learn.    
At the end of the meeting, the students surrounded Mr. Nemoto and couldn't wait to ask questions or to express their feelings. One of the student said, "I found a different Sony from today's lecture and I feel I am kind of closer and loving it a bit more." "Normally we have few opportunities to communicate face to face with multinational enterprises' leaders. Mr.  Nemoto's speech was rich in content, showing Sony's sincere and pragmatic style. I appreciate it a lot." said another student.
After the meeting, Institute of Japanese Studies of Nankai University formally invited Mr. Nemoto to act as their guest professor, looking forward to having more opportunities to sharing his observations and thoughts. Mr. Nemoto once again emphasized his willingness to contribute persistently to the next generations and the friendship between China and Japan.
****************************************************************************************************************
 更多精彩微博内容可访问索尼中国官方微博:
http://weibo.com/sonychina
@索尼中国:索尼(中国)有限公司认证官方微博。时时分享索尼(中国)公司新闻、产品发布、技术动态、服务信息、企业社会责任及环境管理相关内容;与您一道重温索尼历史丰碑和经典时刻;及时带来时尚炫酷的影视、音乐和游戏方面的娱乐信息。